Why is click-through rate important?
Courses: Inbox
Create: 1001 days ago
Update: 873 days ago
Reading time: 5 min
Click-through rate (CTR) visibility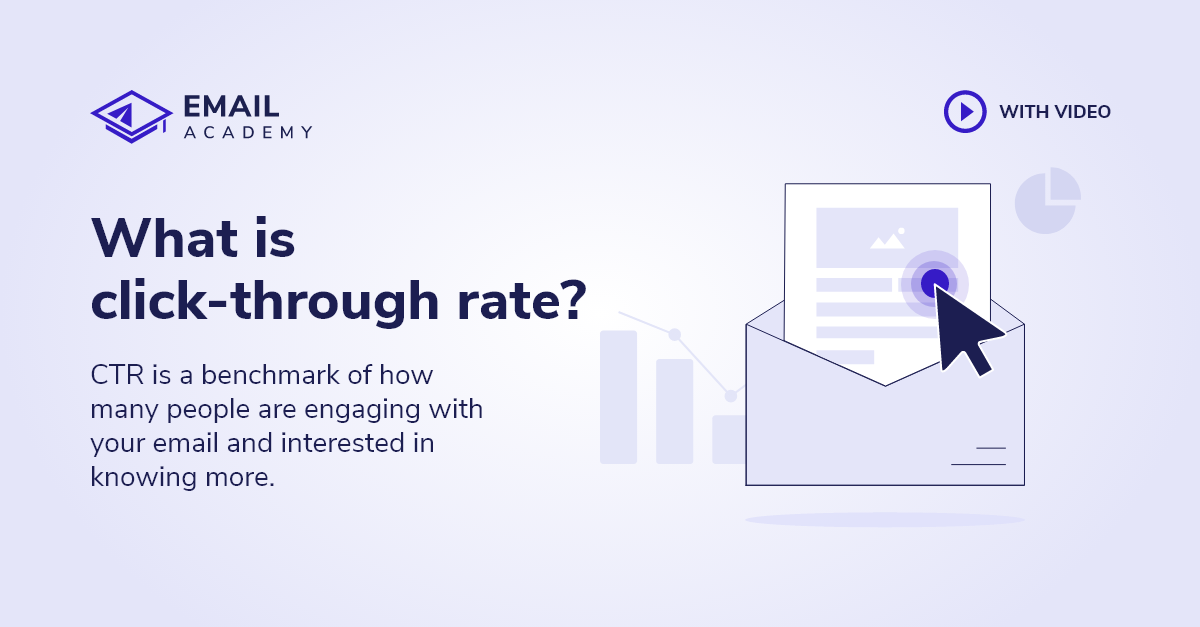 What is click-through rate? You can use many metrics to measure your email campaign's success, but the click-through rate is one of th... Read more » is one of the most important metrics in measuring your email campaign's success. If you regularly monitor click-through rate, you've taken the first step, but there are other ways to use and interpret this metric to improve an email's performance – and increase your ROI, too.
In this lesson, you'll learn:
Why CTR affects your inbox rate and ROI

What's considered a good CTR

What makes people click an email link

Ways to increase click-through rate
Why click through rate affects your inbox rate – and ROI, too
If you don't want your emails to be flagged as junk or spam, you need to care about your reputation – your sender reputation, that is. The goal is to end up in your users' inbox every time, and sender reputation is a key factor. The more people open and click your emails, the better the signal to people's internet service providers. This improves your quality score and, in turn, your inbox rate – which is the first step to reaching potential customers.
The importance of click-through rate also relates to your return on investment, or ROI. If your links aren't generating clicks, then it means people aren't interested in your content, so they aren't turning into buyers for your business. Increasing click-through rate can help improve your conversions, generating more revenue from your email – and a better return on your investment for your campaign.
What's a good click-through rate for an email?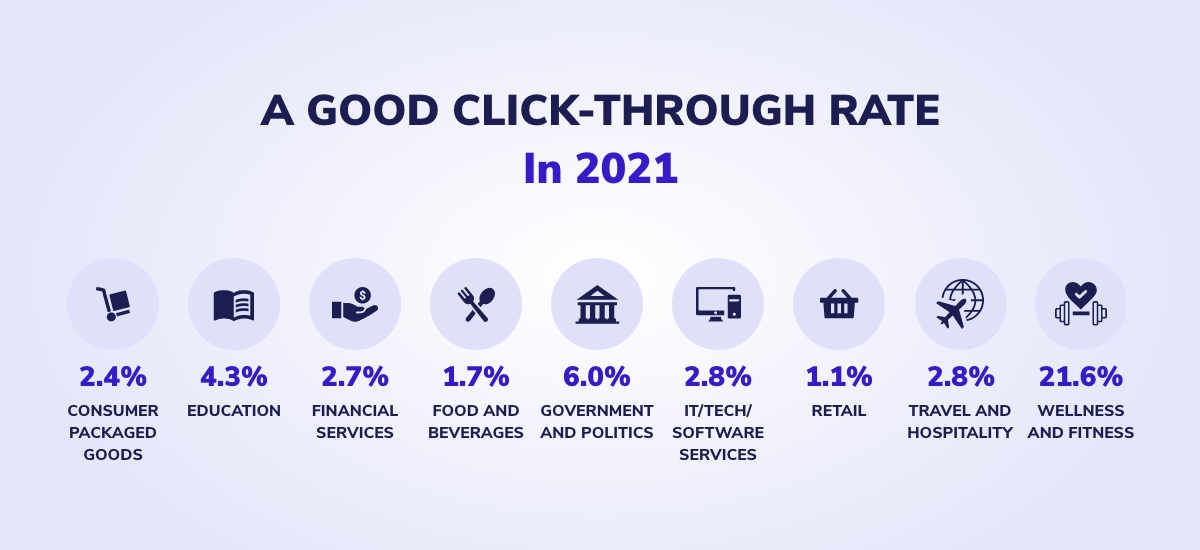 Unfortunately, there's no easy answer to this question. The better question is, "What's an ideal click-through rate for my industry?" Each industry has its benchmarks, or standards of performance, to use when measuring an email's performance against its competitors.
Here are some industry averages for CTR rates in 2021:
Consumer packaged goods: 2.4%

Education: 4.3%

Financial services: 2.7%

Food and beverages: 1.7%

Government and politics: 6.0%

IT/Tech/Software services: 2.8%

Retail: 1.1%

Travel and Hospitality: 2.8%

Wellness and fitness: 21.6%
What makes people to click on a link in your email?
When it comes to your emails' links, grabbing your users' attention – and keeping it – is vital. Your email content needs to be engaging or helpful enough that they feel compelled to click on a link to learn more. You need to consider many factors when creating compelling content, including your email's copy, design, and CTA (call to action). However, you can experiment with improving your email's content in several ways – and, as a result, improve your click-through rate.
How to increase the click-through rate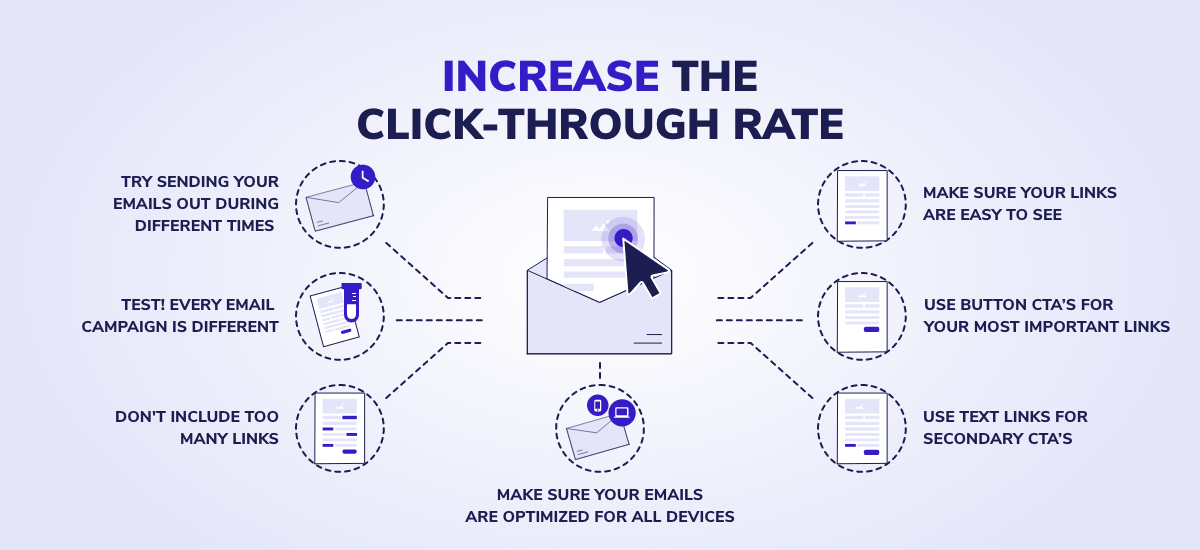 Make sure your links are easy to see and read so readers can find them. That means thinking about their color, wording, and placement inside your email.

Use button CTA's for your most important links. These will call more attention to the links you care about users clicking the most. Make sure the buttons stand out from the rest of your copy and imagery as much as possible.

Use text links for secondary CTA's that are not as important as your button CTA's. However, these should be noticeably long, so the link isn't buried in the email's body copy and easy to miss.

Don't include too many links or CTAs in your email. Doing so will overwhelm your reader, and they may abandon your email altogether.

Make sure your emails are optimized for all devices, including desktop and mobile. Your readers need to have a user-friendly experience that enables them to easily click on your CTA or other links, regardless of which type of device they are using.

Try sending your emails out during different times of the day or on different days of the week. Depending on your audience, you may find certain times result in more clicks.

Test, test, test! Every email campaign is different, and you won't know what works until you do control experiments, gather the data, and apply what you've learned to future campaigns.
Now that you know some ways to increase CTR and why it's so important to your ROI, it's time to learn how to supercharge your email's click-through rate visibility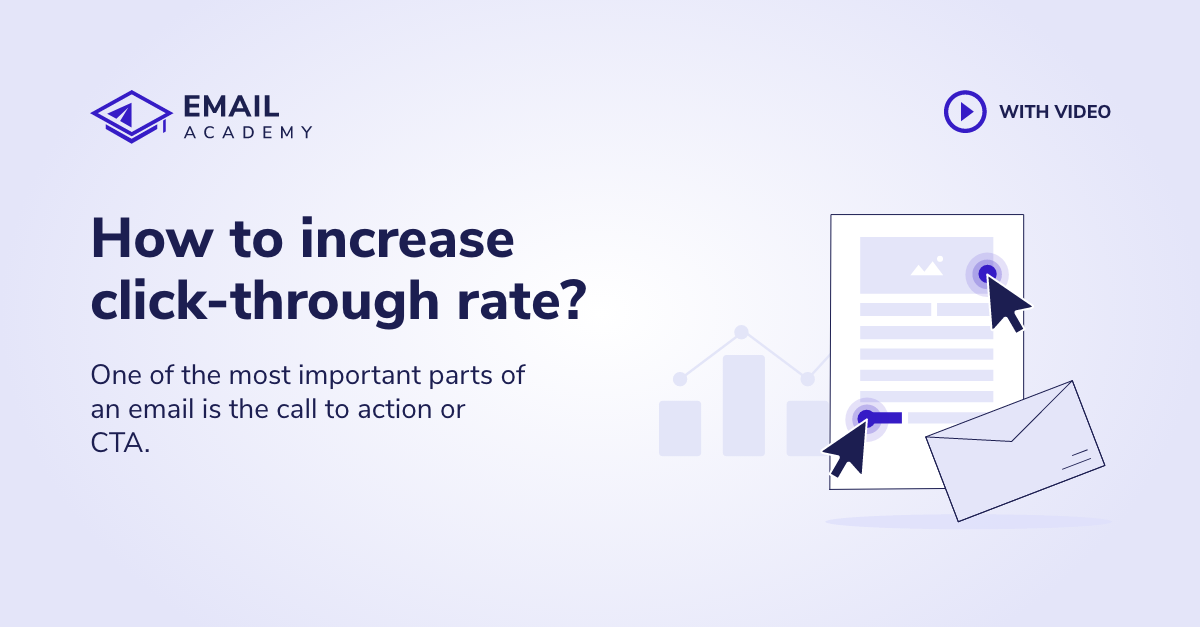 How to increase click-through rates? The leveraging click-through rate is critical to your email campaign's success. But are you using every to... Read more » .
close
Check your
knowledge now!
Start quiz game
Let's continue the lesson
Why is CTR important?.pdf