How to use HTML Email Templates?
EmailAcademy Pro and Master users can download our responsive HTML email templates to send beautiful emails to their subscribers. These email marketing templates are professionally designed and coded to appear well on all devices.
If you are not a professional in HTML and CSS, it can be challenging to build nice-looking HTML email templates. Sending HTML emails vs. plain text emails can increase engagement with your readers, and it has never been easier to send unique emails than with our simple email templates. Select your favorite and download or edit with our editor.
Download or Edit HTML Email Templates Online
Our editable HTML email templates can be downloaded. You can edit the email's template HTML code locally or import it to your email marketing tool.
You also have an option to edit your lovely email templates online with our HTML email editor. You can import the selected template to our editor with a single click, where you can edit and customize your template, download the source code, or save it in your template library.
Who Can Use EmailAcademy's HTML Email Templates?
Email templates are only available for Pro and Master users.
You could download up to 3 templates every month if you were a Pro user. You can become an EmailAcademy Pro with a one-time $19 payment. Alternatively, MillionVerifier users get EmailAcademy Pro for free.
You can download up to 10 email templates as a Master user.
Edit and Manage HTML Email Templates Online
Whether you start from scratch or use one of our templates, you can use our online HTML email editor to create HTML email templates. It is an email template editor where you can edit or build HTML emails and a platform where you can save your email templates and edit them later.
HTML email template generator
You can create HTML email templates with our online HTML email editor:
You can import any of our templates into our email template HTML editor.
You can import HMTL email templates you already own (custom designed or purchased elsewhere).
You can start creating from scratch.
The editor allows you to edit the HTML code and utilize the "what you see is what you get" (WYSIWYG) editor with drag & drop elements.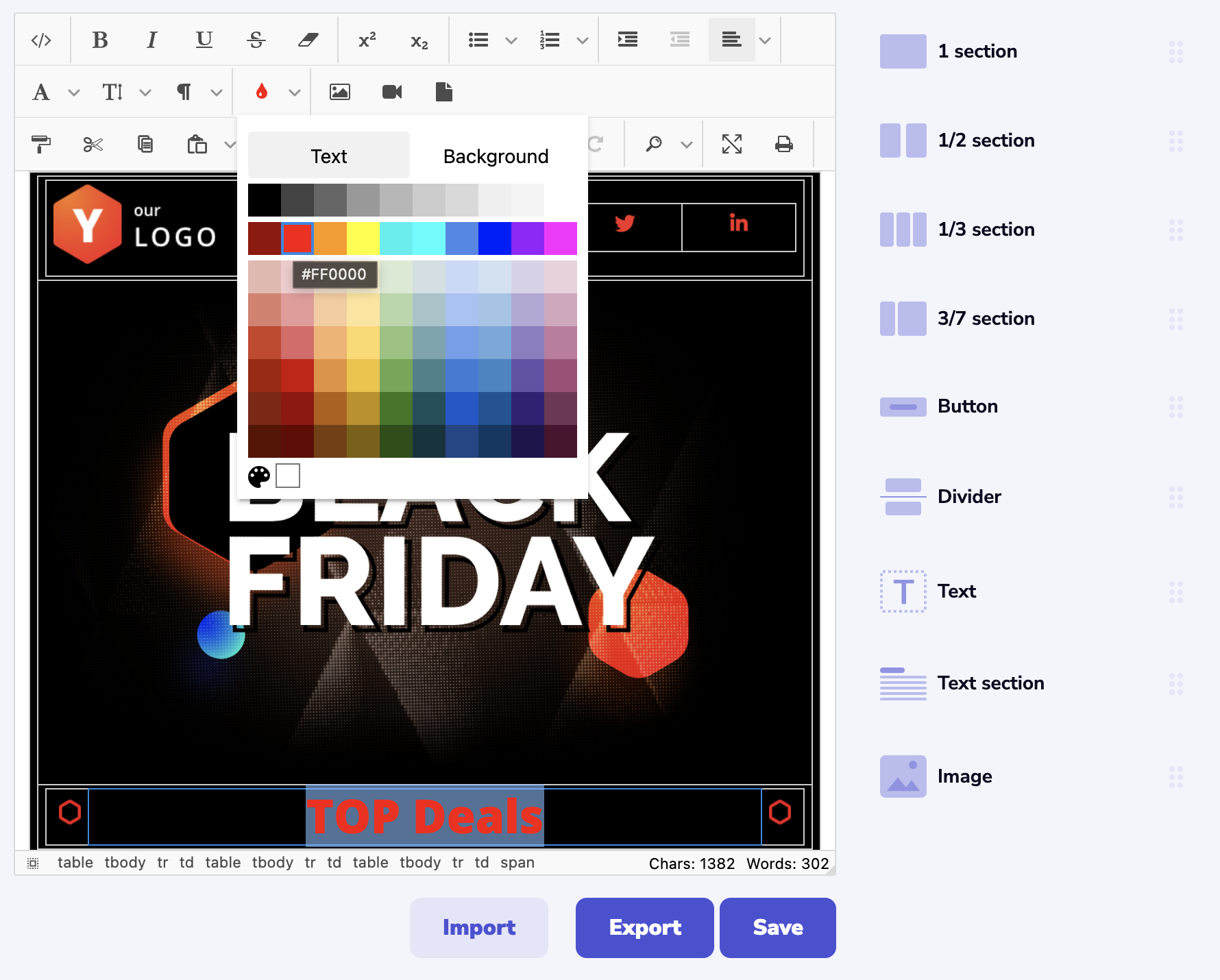 Business Email Templates
We regularly publish professional email templates to provide your business with up-to-date templates.
We have designed custom HTML email templates for several occasions, such as:
Christmas email templates
Happy New Year email templates
Sales email templates are also available, such as:
Product feature email templates,
Email Image Hosting
Any images uploaded into an HTML email template that you save with our HTML email editor will be hosted on our image CDN. Email image hosting is also available as a separate service on EmailAcademy.
Why use EmailAcademy's HTML email image hosting service:
You can convert your images online to the best file format.
You can reduce the size of your photos to ensure they load quickly.
You can download the converted image or use our CDN link that you can insert into your emails. EmailAcademy's content delivery network (CDN) ensures the fastest load anywhere in the world.