How to Test if SPF is Set up Correctly
Courses: Inbox
Create: 994 days ago
Update: 873 days ago
Reading time: 5 min
There's an old saying that email marketing professionals often use: "Test it and then re-test it. And then test it again!" If you've followed our previous lessons on what an SPF record is visibility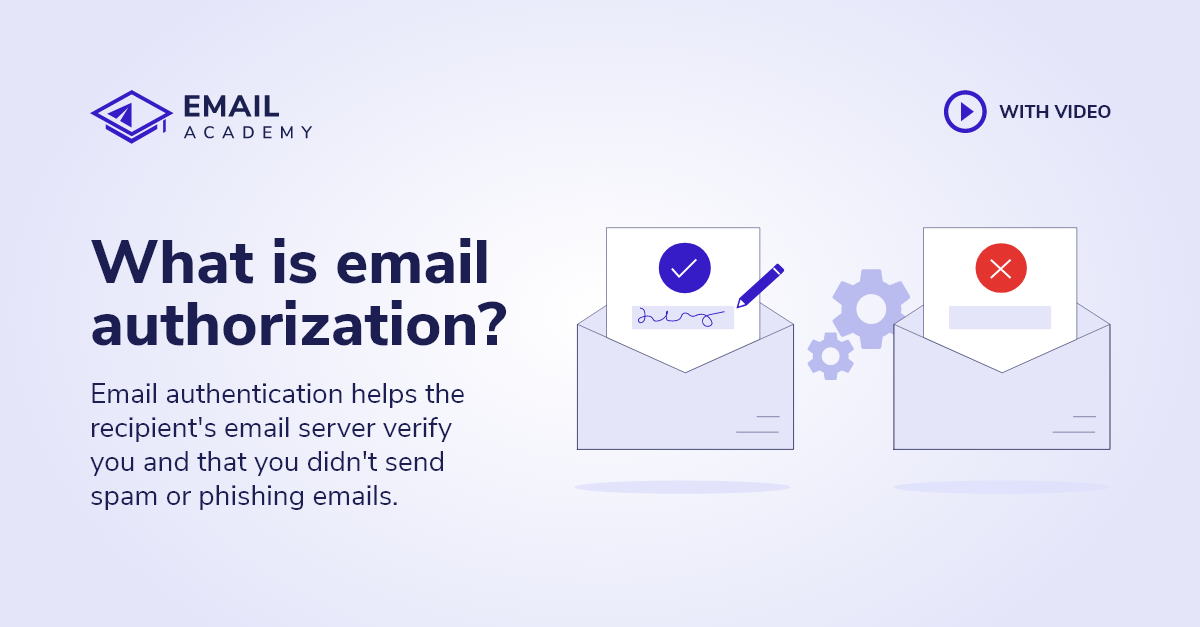 What is email authorization (SPF, DKIM)? When you start diving into the topic of email marketing, two of the acronyms you'll quickly come across ar... Read more » and how to set up SPF on your domain, then it's time to test your SPF record to ensure that it is formatted and functioning correctly. Remember: You will be unable to successfully send emails from your domain with SPF set up incorrectly!
This lesson will show you three methods to check SPF records: Method 1 is the simplest method using an SPF generator. Method 2 is a slightly technical method using the Command prompt on your computer. Method 3 is the simplest method that industry insiders and long-time pros utilize to double-check whether email providers are reading your domain's SPF record correctly.
We'll also briefly cover how long you can expect it to take if you make any changes to your DNS before that change propagates on the web.
Method 1 - Use an SPF Generator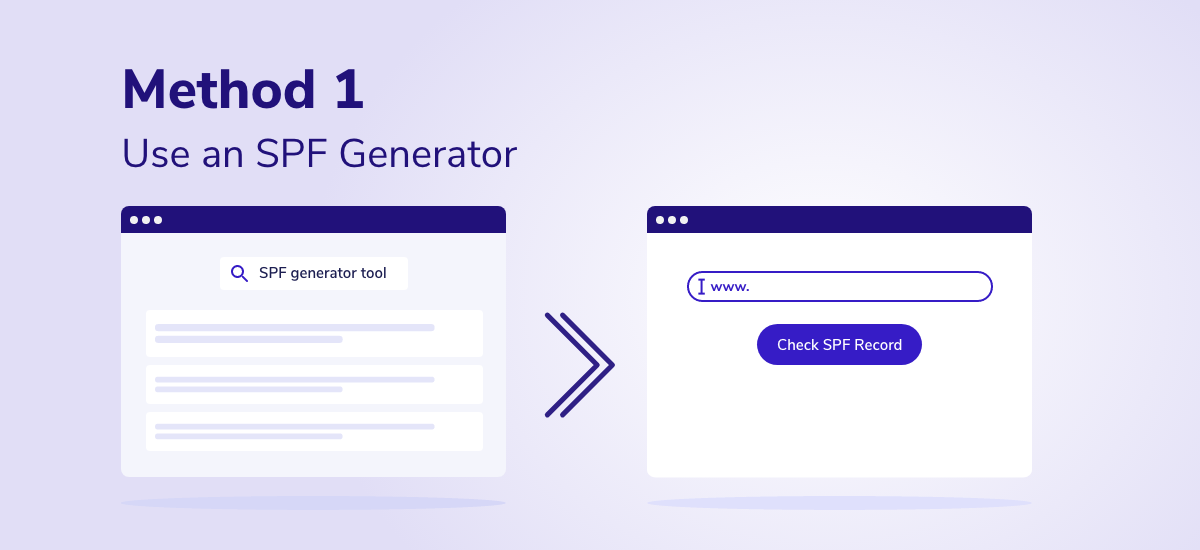 Difficulty: Simple.
This is one of the easiest and quickest ways to check SPF on your website -- or any website, for that matter. Type in "SPF generator tool" in the search engine of your choice. Most of the top search results will provide you with a quick and easy way to check your own SPF record.
Simply type in the domain name that you plan to send emails from in the search box. Then, click "Check SPF Record" (or whatever the search button on that particular SPF generator tool says).
The SPF generator tool will then pull up the TXT version of your SPF record if you followed the steps in our lesson on "How to Set up SPF." Depending on which SPF generator tool you use, it will display your SPF record in full or a truncated version that displays the SPF version number and your closing command, such as:
v=spf1 ~all
Check your SPF record on multiple SPF generator tools. If the tools do not generate an SPF record, it tells you that your SPF record is either not set up correctly, or perhaps it has a typo in it which the SPF generator tools cannot read correctly.
Method 2 - Use Your Computer's Command Prompt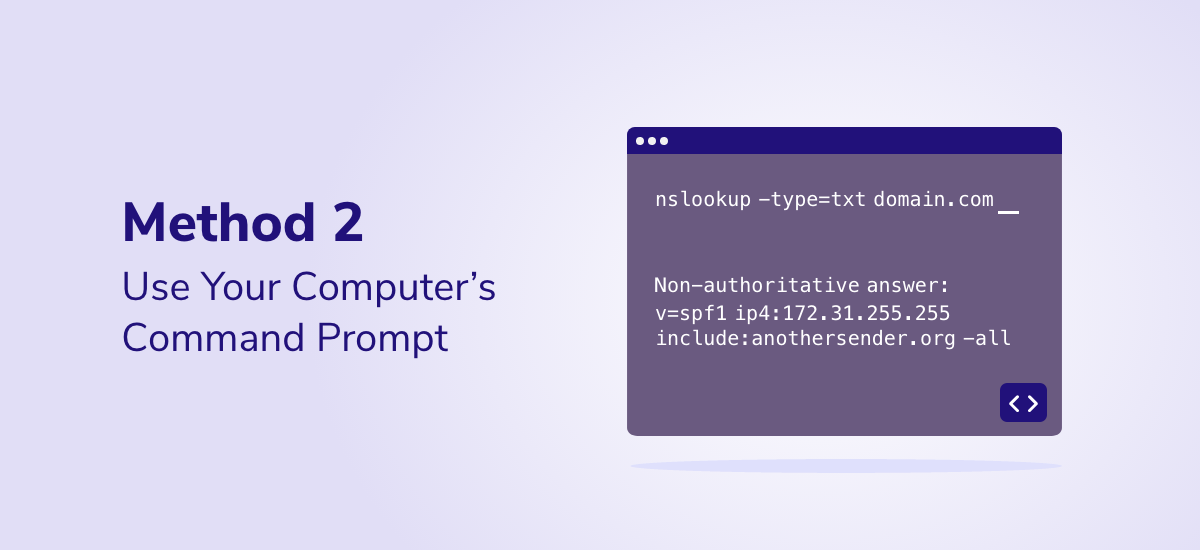 Difficulty: Slightly technical.
Another way to check SPF records for any website is by using the Command prompt (Cmd) on your computer. Follow these steps:
Open the Command Prompt using your keyboard (Press Start > Run > Cmd).
Type in "nslookup -type=txt", followed by a single space and your domain name. The command should read like this:
nslookup -type=txt heresmydomainname.com
Hit the "Enter" key on your keyboard.
If you followed our guide on "How to Set up SPF," it should generate a record that includes your full SPF record in quotes, such as:
"v=spf1 ip4:172.31.255.255 include:anothersender.org -all"
The Command Prompt return may also display your domain server's URL, its Address, and a code that shows "google-site-verification" and other information.
Once again, if this method does not display an SPF record for your domain, it means that your SPF is misconfigured or may have a typo in it.
Method 3 - How the Pros Double Check SPF Records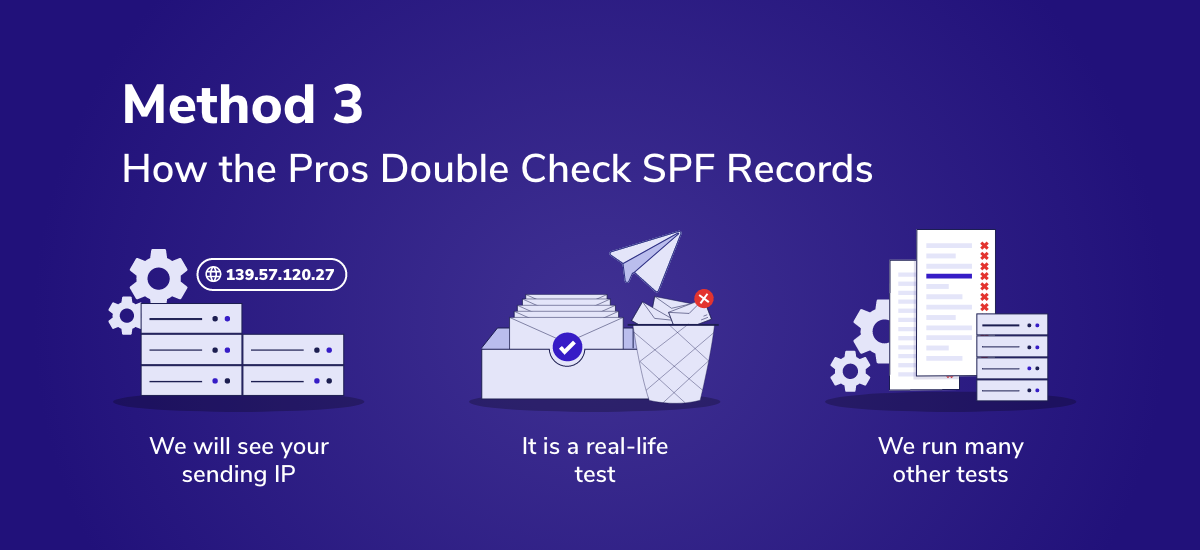 Difficulty: Very Easy!
At EmailAcademy, we love to make things easier. You can use our Inbox Tester tool to check your SPF records along with many other checks.
Advantages of using the Inbox Teste in terms of SPF testing:
We will see your sending IP. Without a doubt, this is the most accurate way of checking your sending IP.
It is a real-life test. We will evaluate how spam filters will see your email. This way, you can test to ensure that your SPF is functioning in a real-world application before sending out your first email marketing campaign!
We run many other tests. You get a combined result and details of many tests.
SPF - Master - How to Test if SPF is Set up Correctly.pdf