How can I create HTML emails?
Courses: Design and Code
Create: 858 days ago
Update: 333 days ago
Reading time: 4 min
Responsive HTML emails are visibility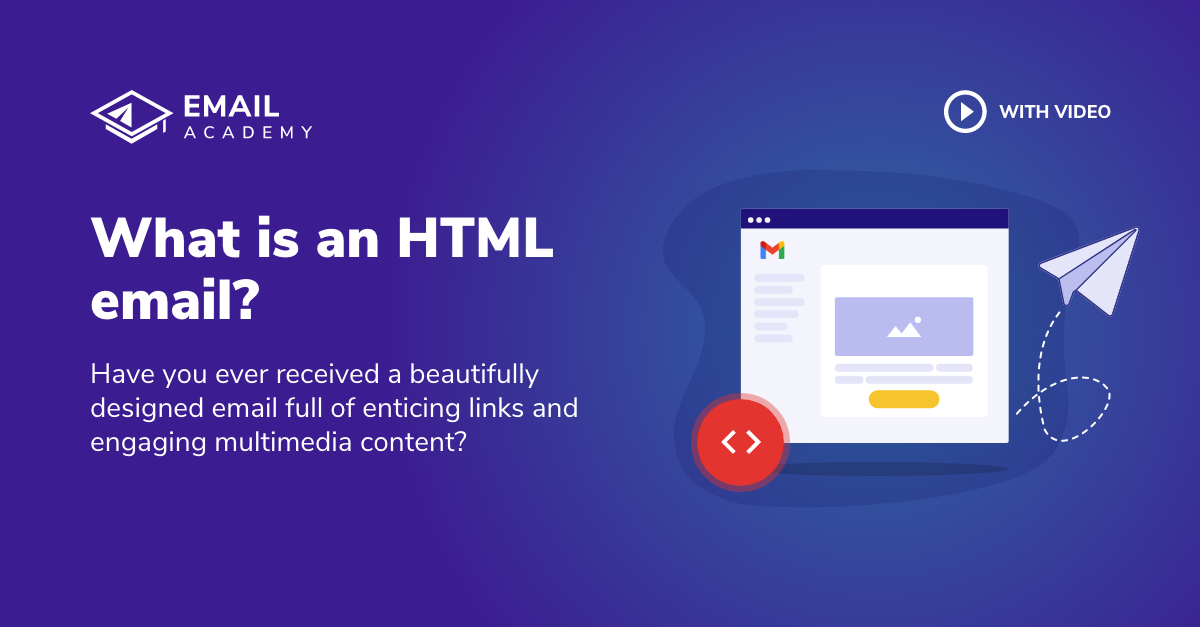 What is an HTML email? What is an HTML email? Is HTML or plain text better? Why should I be sending HTML emails? Can I make an em... Read more » the best way to create engaging, beautifully designed, and interactive email campaigns that can be tracked and measured for performance. But what if you've never created an email before and don't know how to code? How do you make sure your emails land in users' inboxes and not lost in spam? There are many ways to create responsive HTML emails, even if you have zero or limited coding knowledge and are relatively new to this type of email marketing.
In this lesson, you'll learn:
How HTML emails require inline CSS
Why HTML emails must be responsive
How to create HTML emails if you don't know how to code
Why it's important to test your emails before sending them
How do HTML emails use inline CSS?
In addition to HTML (HyperText Markup Language), HTML emails also use inline CSS, or Cascading Style Sheets. HTML and CSS are used to code both websites and emails, working together to make sure their design elements are formatted and displaying properly. On a website, CSS describes how HTML elements will render on the page, including colors, headlines, tables, and images. These style sheets are stored in several ways, either inside the HTML document itself (known as inline) or externally from outside the document, like somewhere on a server.
In addition to web pages, CSS is also used to enhance the design and functionality of HTML emails. Many email clients disable emails to pull from external or even embedded style sheets, requiring HTML emails to use inline CSS. This means that the CSS code is applied directly to the email's HTML (literally written in the lines of an HTML file). Most email marketers prefer inline CSS to make sure their emails display correctly across a wide and diverse range of email clients.
Why HTML emails should be responsive
In our digitally-driven world, people use a vast variety of devices and email clients to consume and send emails. And every year, more and more of that consumption takes place on mobile. By making your HTML emails responsive, you can ensure that your emails and their design elements will display well across a wide variety of email providers, such as Google, Outlook, and Yahoo. You can also make sure they render correctly across different devices, such as desktops, tablets, and, most importantly, mobile.
How to create HTML emails even if you don't know how to code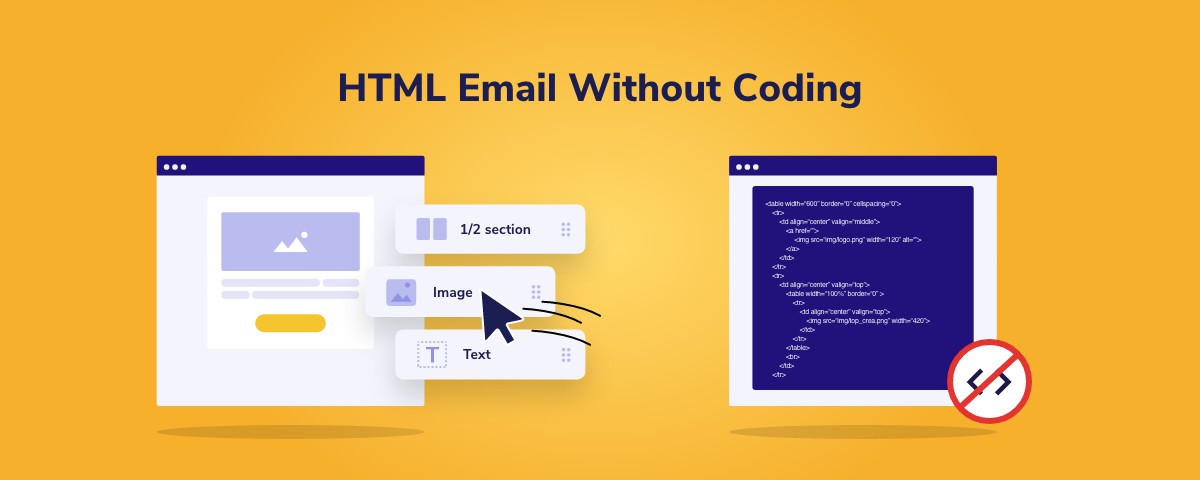 Even if you have minimal coding skills – or you don't know how to code at all – there are several ways you can still create well-designed, highly functional HTML emails. Here are two of the most popular ways to create emails when you aren't savvy in coding:
1. Email templates
An HTML email template visibility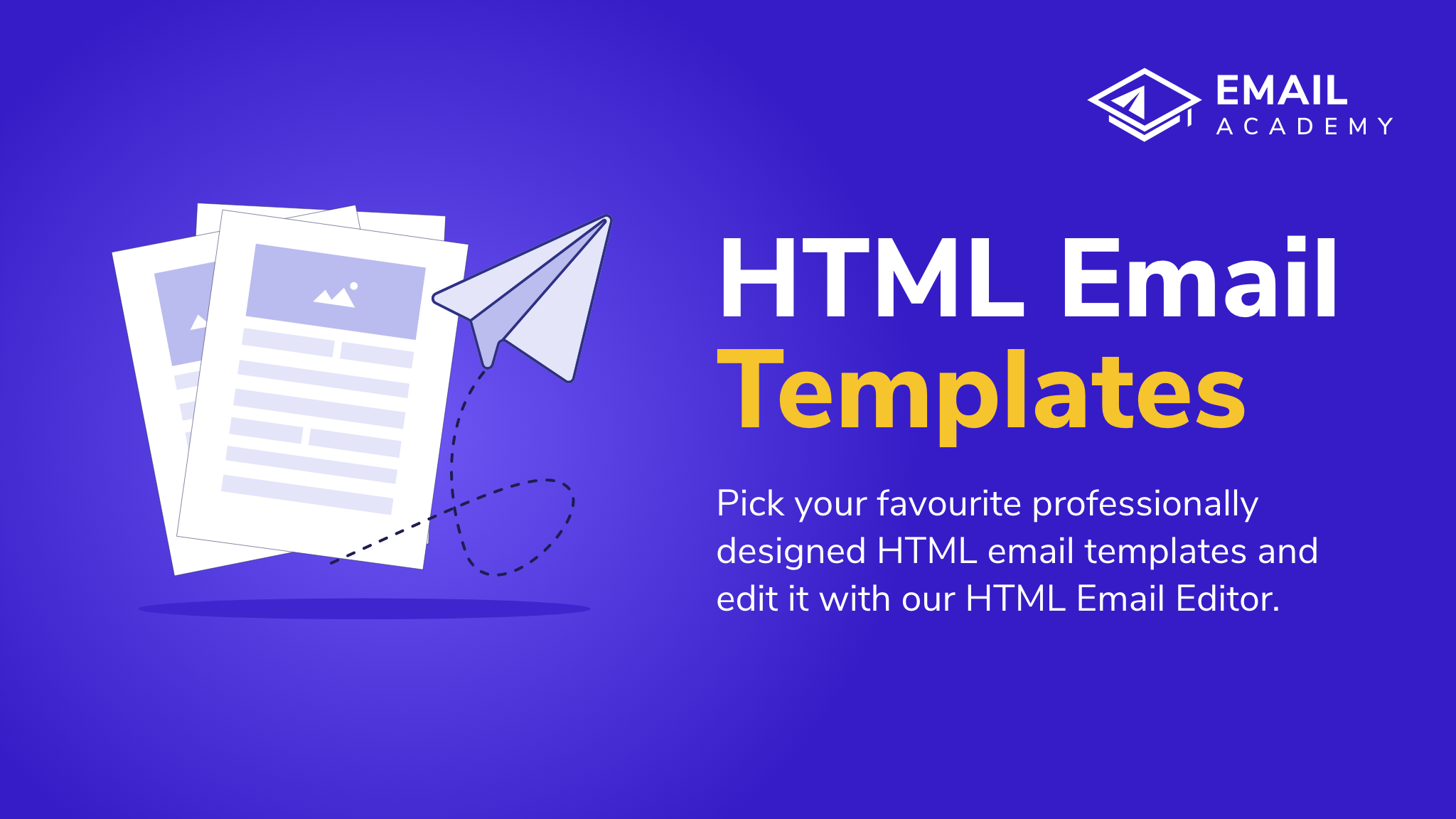 HTML Email Templates - Download or Edit Online Pick your favorite professionally designed HTML email templates and edit them with our HTML Email Editor. Email Templates are available for Pro and Master users only. Read more » is an HTML file pre-loaded with reusable bits of code, making it easy to use the same email format and simply switching in the new copy, links, and URLs for each new campaign. The main point of an email template is to reuse it as much as possible and eliminate the need to build an email's HTML code from scratch. These templates are generally stored in an email code editor, ready for you to use regularly, and require little to no HTML editing.
You can find a large variety of easy-to-use HTML email templates on EmailAcademy.
Select your favorite one.
You can either download it as is or import it to our HTML email editor
Edit, save, or download it.
2. HTML email editors
These email editor tools are also known as "drag-and-drop editors." These tools allow you to further customize existing email templates by dragging and dropping different elements and blocks within the file. They also allow you to customize the email by shifting into HTML email editor visibility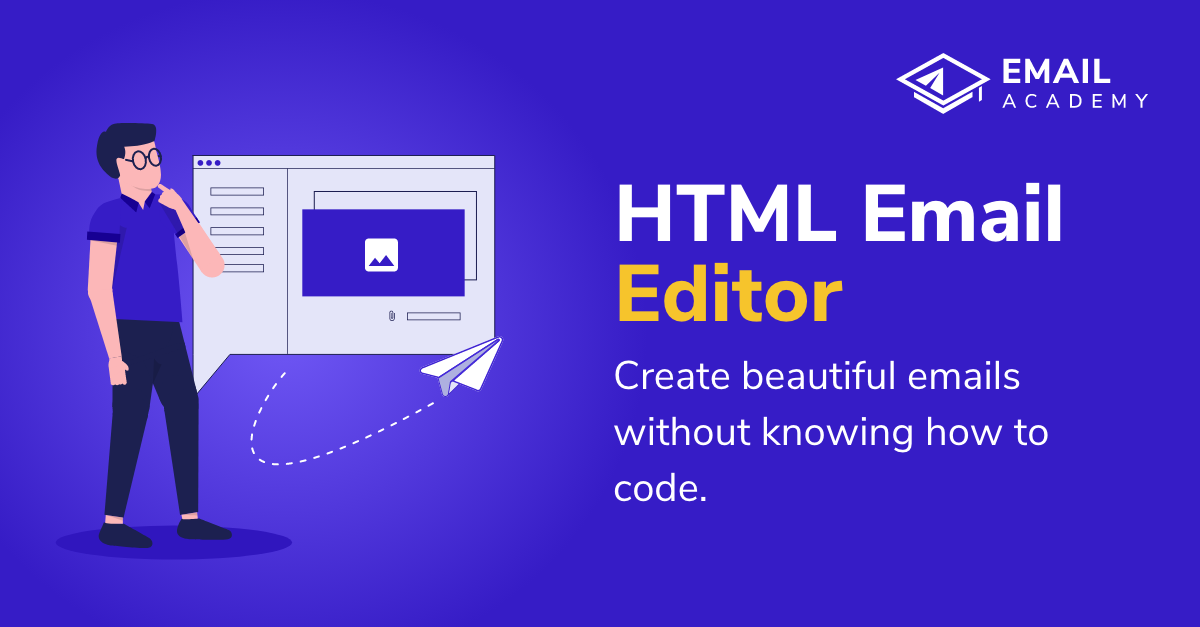 HTML Email Editor - Import, Edit, Save & manage Your Templates Create effective HTML emails without knowing how to code. Import any HTML email or select one from our amazing templates, edit your emails, and export your HTML code with just one click. Read more » mode, essentially letting you combine drag & drop editing with HTML code editing.
This new tool will allow you to:
Import any existing HTML emails for editing
Drag-and-drop new elements into new and existing email templates and HTML files
Format and customize your HTML files
Export your HTML files into responsive emails that are responsive across most devices and email clients
Save your emails as a template for future use
Why testing your emails before sending is essential
Email marketing has its perks. It's an inexpensive form of marketing and easy to track. However, it's very easy for email clients to break your email design's code. What does this mean? Images could go missing, links could break, and formatting could break down altogether. So why does this happen? Email clients will notoriously stop supporting specific HTML or CSS elements in emails without notice. That means they might reject code that significantly impacts your email's formatting or makes specific components "break" or completely disappears.
Testing your emails before you officially send them out to your subscribers is essential. There are many tools available to check emails for all types of errors, including ones attributed to HTML or CSS. But it's also important to check for things like spelling and grammar errors, too!
Now that you've learned how to create HTML emails, it's time to take your knowledge to the next level. Learn how to create truly effective HTML emails visibility
Best tips to create effective HTML emails Learn how to get the most out of HTML emails. Everything from images, through colors, to text. Read more » here.
close
Check your
knowledge now!
Start quiz game
Let's continue the lesson