Join our Partner Program
Courses: Email Academy
Create: 989 days ago
Update: 873 days ago
Reading time: 3 min
EmailAcademy launched a Partner Program combining 3 email marketing sites for referral partners who can earn an attractive commission of the sales they bring to EmailAcademy, MillionVerifier and ColdCampaigns.
We work hard to create the best applications for our users. Your only job is to share our links, and we do all the rest, including follow-up campaigns, promotions, customer services and so on. The only thing for you is to sit tight and enjoy the money you earn with us.
Why join the Partner Program?
As an EmailAcademy Partner, you will be able to refer to 3 of our sites and earn partner points for an all-in-one program. You will be able to refer EmailAcademy, MillionVerifier and ColdCampaigns from the same account.
You will get a commission for the payments for one year made by the users referred by you.
Our Partner Program has 4 different levels. The more customers you recommend to us, the more you earn. When you join our program, you start on level 1.
When you first join our program, you get 2,000 points instantly, which is worth $20.
How much can I earn as a Partner?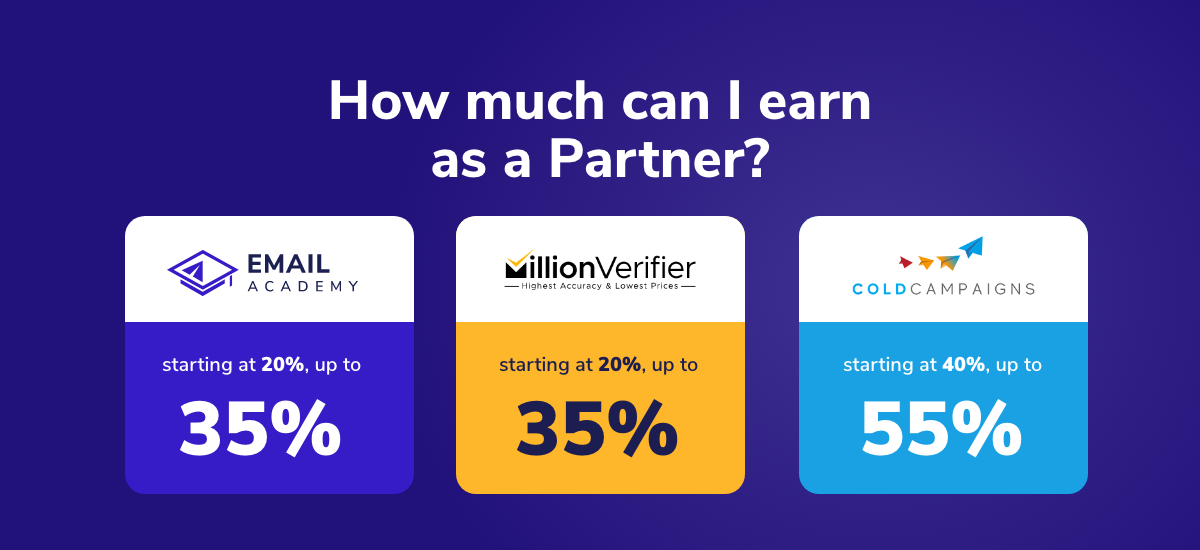 You will get a commission of what they pay on our sites. Let's see how much you can earn when recommending the following pages:
EmailAcademy: starting at 20%, up to 35% on level 4
MillionVerifier: starting at 20%, up to 35% on level 4
ColdCampaigns: starting at 40%, up to 55% on level 4
How can I join the Partner Program?
Joining EmailAcademy's Partner Program takes less than 1 minute.
Create a free Member account on EmailAcademy.
Join our Partner Program here: https://emailacademy.com/profile/partner-program by accepting the Partner agreement and click on "I want to join".
You will be automatically redirected to a page where you can find the affiliate links and banners. You can also track your referral performance on the same page.
You can see that $20 has instantly been added to your account. This is our welcome gift for you for joining our Partner Program.
How can I refer new users?
You can select which site you want to recommend by clicking on the sites' logos on the Partner Program page.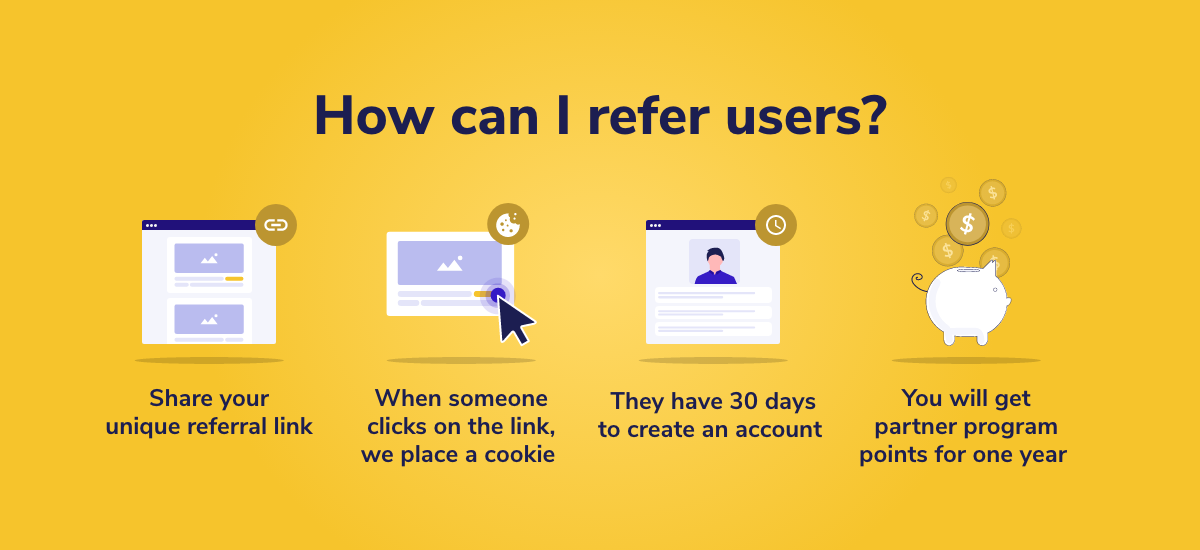 For each site, you can find a link with a #ea_your_referal_id. This link contains your unique referral id. You can share this link on the web, on social media, in an email, or virtually anywhere.
When someone clicks on the link, we place a cookie on their computer or mobile phone. This way, we can track when someone registers who you recommended.
We will show them re-marketing campaigns, encouraging them to create an account on the site. They have 30 days to create an account to make sure they are linked to you.
When they create an account, we start showing them campaigns to make their first payment. You will get partner program points for one year for every payment they make.
We will publish banners to paste into your website, making your job easier to recommend us.
How will I get paid?
Every 100 points are worth 1 USD. When you have reached the payout threshold of $100, you can request a payout. We will pay your commission to your PayPal account.
Example
Let's say you are a member of a Facebook group for email marketing. From time to time, you share your thoughts about our services, and you leave the link including your partner id.
Five people register on EmailAcademy.
Two of them never buys anything from us.
One of them becomes a Pro, paying us $19. -> you earn: 380 points
One of them becomes a Pro (380 points), later on, this month becomes a Master subscriber without any upgrades for at least a year (12x$47 – 11,280 points). -> you earn11,660 points
One of them becomes a Master subscriber with a few upgrades but cancels its plan after three months. (3 x $92 – 5,520) -> you earn: 5,520 points
For joining our Partner Program, you were given 2,000 points. In this example you made in total 19,560 partner points (2,000 + 380 + 11,660 + 5,520), that is worth $195.6 USD.
As you can see, you can easily make hundreds of dollars by recommending us.
Where can I share the partner links?
The options are unlimited, but here are a few ideas that may work for you:
On your website or blog.
On your Facebook page, Twitter, LinkedIn.
In an email sent to your users, buyers, subscribers.
In any related social group. For example, email marketing related to Facebook or LinkedIn groups.
You can set up PPC campaigns (except bidding for brand names).
You can answer questions on forums like Quora or Reddit.
You can personally recommend our services to your friends and customers and send them a link to sign up through an email, Messenger, or WhatsApp.