Automated Email List Cleaning Services Compared - Pros & Cons
Courses: Email Bounce
Create: 738 days ago
Update: 669 days ago
Reading time: 9 min
Automated email verification services can clean your email lists regularly to keep your lists as clean as possible at all times. However, only 6 email verification services offer fully automated list cleaning of the more than 200 email verifiers online.
6 Automated Email List Verifiers
There are only 6 email verifiers offering a fully automated email verification service. Read Pros, Cons, and Prices lower this page.
MillionVerifier
NeverBounce
Emailable
Debounce
Mailfloss
Emaillistvalidation
What is Automated Email List Cleaning?
Automated email verification is a system provided by decisive email verification services to always keep your email lists clear of bad emails by verifying your emails on a regular basis and removing bad emails from your email marketing account automatically.
Most email verifiers offer email verification API to disallow bad emails to be added to your lists. However, most of them don't provide a fully automated email cleaning service for existing lists.

If you use an automated list cleaner, you will benefit from:
Always clean email lists,
Lower email verification costs,
Increased email reputation,
Saved time you can use for meaningful tasks,
Automated instead of manual processing.
Why Automation Become Necessary?
Every month 1.5-4% of your emails may go bad, causing you an intermittent delivery issue and fall of email reputation. I have surveyed email verification customers in November 2021. In total, 612 users have participated and expressed their views on the importance of automatic email cleaning.

Let me summarise several facts and conclusions of the survey:
63.8% use an automated email marketing platform to send emails. Users who automate email sending want to automate the related process as well, including email verification.
31.8% said they already verify all their emails every day, and 72.6% want bad emails to disappear every day automatically.
82% of the respondents upload their contacts manually to an email verifier, and on average, they spend 45 hours verifying emails every month. Email marketers invest a vast number of hours into repetitive manual work that can be fully automated.
You can find further survey facts in the Email Verification Service Changes in 2022 lesson.
Respondents clearly expressed they require a solution for regular and automated email list verification services. Drastic changes among email verifiers must follow such a user demand. Currently, less than 3% of email verification services offer fully automated email verifications solutions.
How Automated Email List Verification Works?
Let's see step by step how you can verify all our existing email lists regularly and automatically.
Select one of the automated email list verification services. You can find six automatic verifiers with pros, cons, and prices below this page.
Connect your email marketing platform with your selected automated email verifier. This typically can be done by copy-pasting a unique (API) key provided by your email sender.
Select the email lists you always want to keep clean.
Select emails you want to remove from your email lists. E.g., invalid emails.
Select desired action to automatically take when a bad email is found. E.g., unsubscribe
Start automation. This usually requires a subscription to a small monthly plan. You can also find a price comparison below.
The automation will regularly download all your emails from your account, verify all your emails, and automatically take the action you have set up. E.g., unsubscribe invalid emails

Everything works in the background without you logging in, uploading lists, downloading results, and taking manual action. You only spend 5 minutes setting this automation up, and the automated verifier will do everything for you.
Review of 6 Automated Email List Verification Services
I have researched over 200 email list verification services and found only six progressive email verifiers that already offer automated verification. All the below information was gathered from their websites in November 2021. Even though I am related to MillionVerifier, I have tried to remain impartial to review these services objectively.
1. MillionVerifier
MillionVerifier offers a unique automated email verification service called EverClean to verify your email lists every day and remove any bad emails from your account, automatically protecting your account from hard bounces and your email reputation.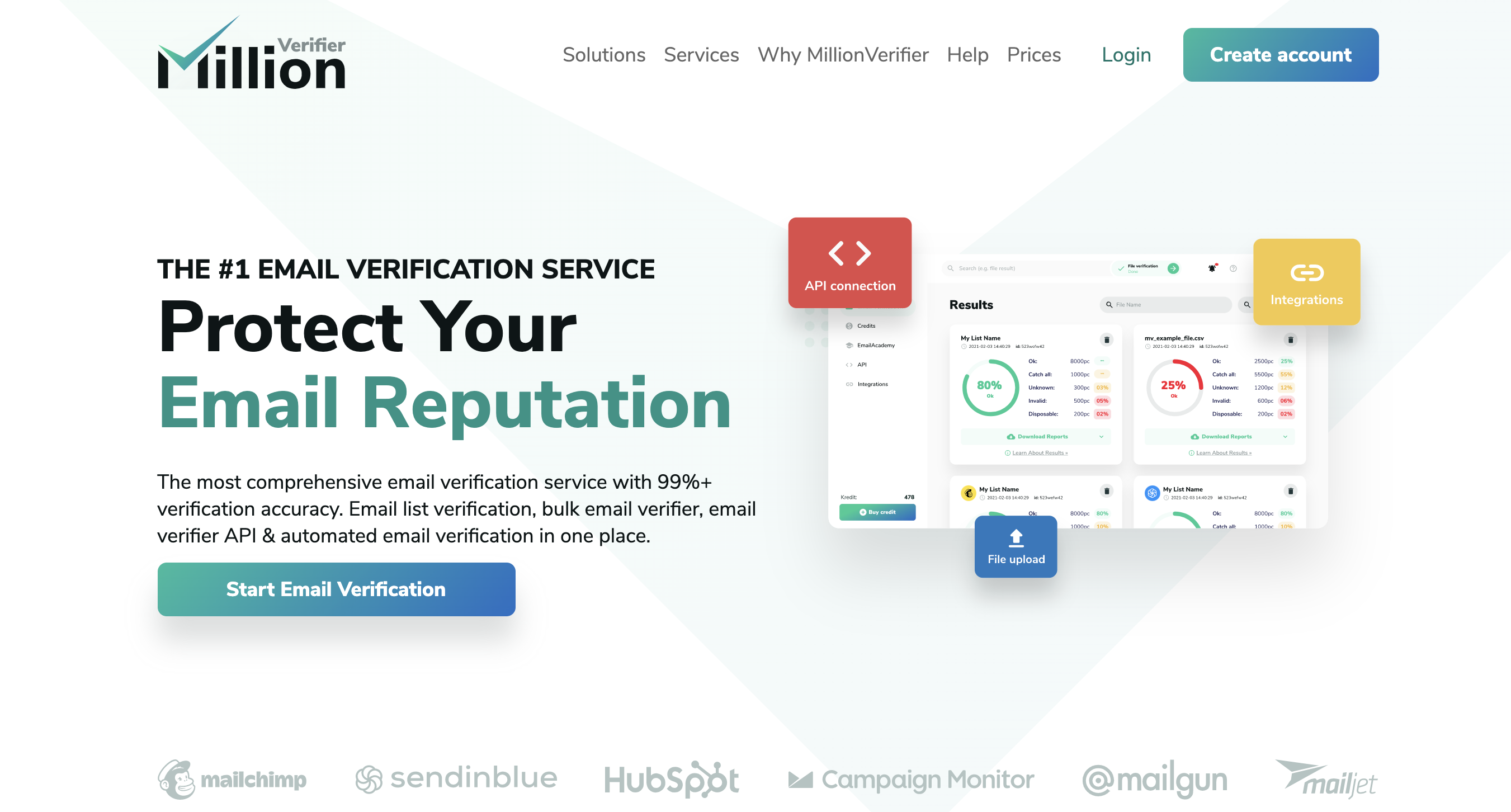 MillionVerifier EverClean integrates with 17 email service providers: Mailchimp, Sendinblue, Mailgun, Mailjet, Elastic Email, Campaign Monitor, Active Campaign, Zoho CRM, Cold Campaigns, Reply, Getresponse, Hubspot, AWeber, MailerLite, Drip, Apollo, and Sendgrid.
MillionVerifier charges only $49 per month for 50,000 emails, and you can cancel your subscription at any time.
MillionVerifier is proud of its outstanding 99%+ email verification accuracy rates. Automating with high accuracy guarantees you will never have to face high hard bounce rate issues again.
MillionVerifier is the only email verifier that provides credits for email verification API for its automated list cleaning users. This way, you can fully automate your email verification with one single payment.
Upon daily cleaning, MillionVerifier provides you with a downloadable CSV, including the emails removed from your account. This way, you can review the actioned emails, and if you want to, you have the option to check on the emails removed manually.
MillionVerifier operated by GBD Plc seated in Europe. MillionVerifier is fully GDPR compliant and prioritizes data security.
Excellent email verification service with a 4.6 rating on Trustpilot
MillionVerifier Pros:
Daily lists cleaning,
Free trial with up to 1,000 emails,
Plans starting from only $15,
Cancel any time,
Free email verification credits every month to use with API,
17 integration and connecting more,
99%+ verification accuracy,
GDPR compliant,
Excellent reviews
MillionVerifier Cons:
Only email and chat support are available.
MillionVerifier Prices:
2. NeverBounce
NeverBounce's Sync will keep your email data valid on a near-daily basis. Every time you press send, your data is already clean.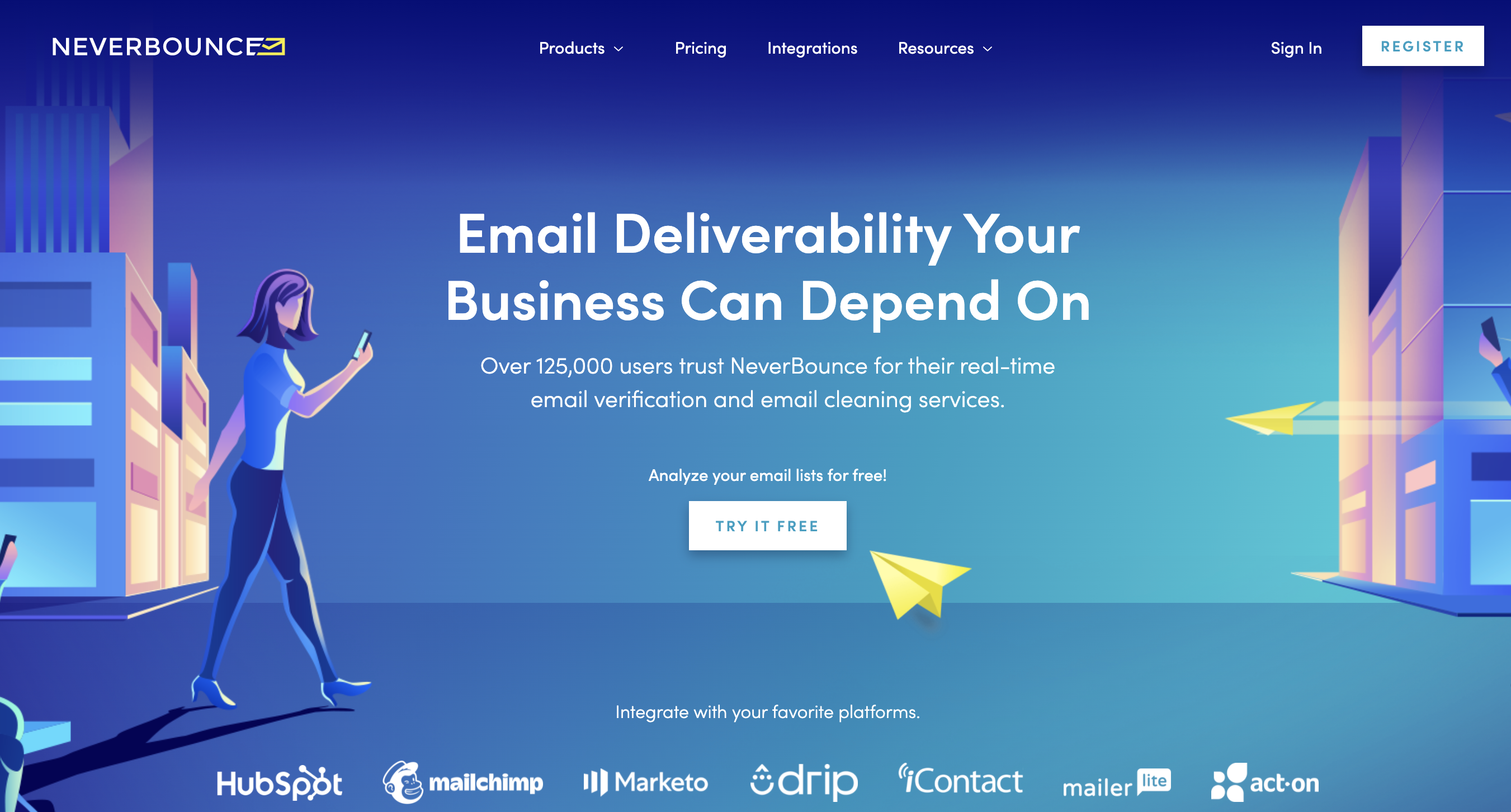 NeverBounce integrates with 16 email service providers: ActiveCampaign, AWeber, Bronto, Campaign Monitor, Constant Contact, Drip, Hubspot, iContact, iContact Pro, Mailchimp, MailerLite, Mailjet, Moosend, Salesforce Pardot, Sendgrid, and Vertical Response.
NeverBounce charges $159 for 50,000 emails per month, and you cannot cancel your subscription for three months.
NeverBounce claims 99.9% delivery rates, and it is GDPR compliant.
Not listed on Trustpilot but has 4.4-4.5 ratings on other sites.
NeverBounce Pros:
Daily email verification,
Plans starting from $10, ű- 16 integrations available,
99.9% delivery rate claimed,
GDPR compliant
NeverBounce Cons:
No free trial for Sync,
Minimum 3 months contract,
No free email verifier API,
No Trustpilot reviews
NeverBounce Prices:
Up to 1,000 emails $10,
Up to 10,000 emails $99,
Up to 20,000 emails $99,
Up to 50,000 emails $159
3. Emailable
Use Emailable Monitor to your current ESP and have your lists verified daily to keep a healthy list by including only deliverable email addresses.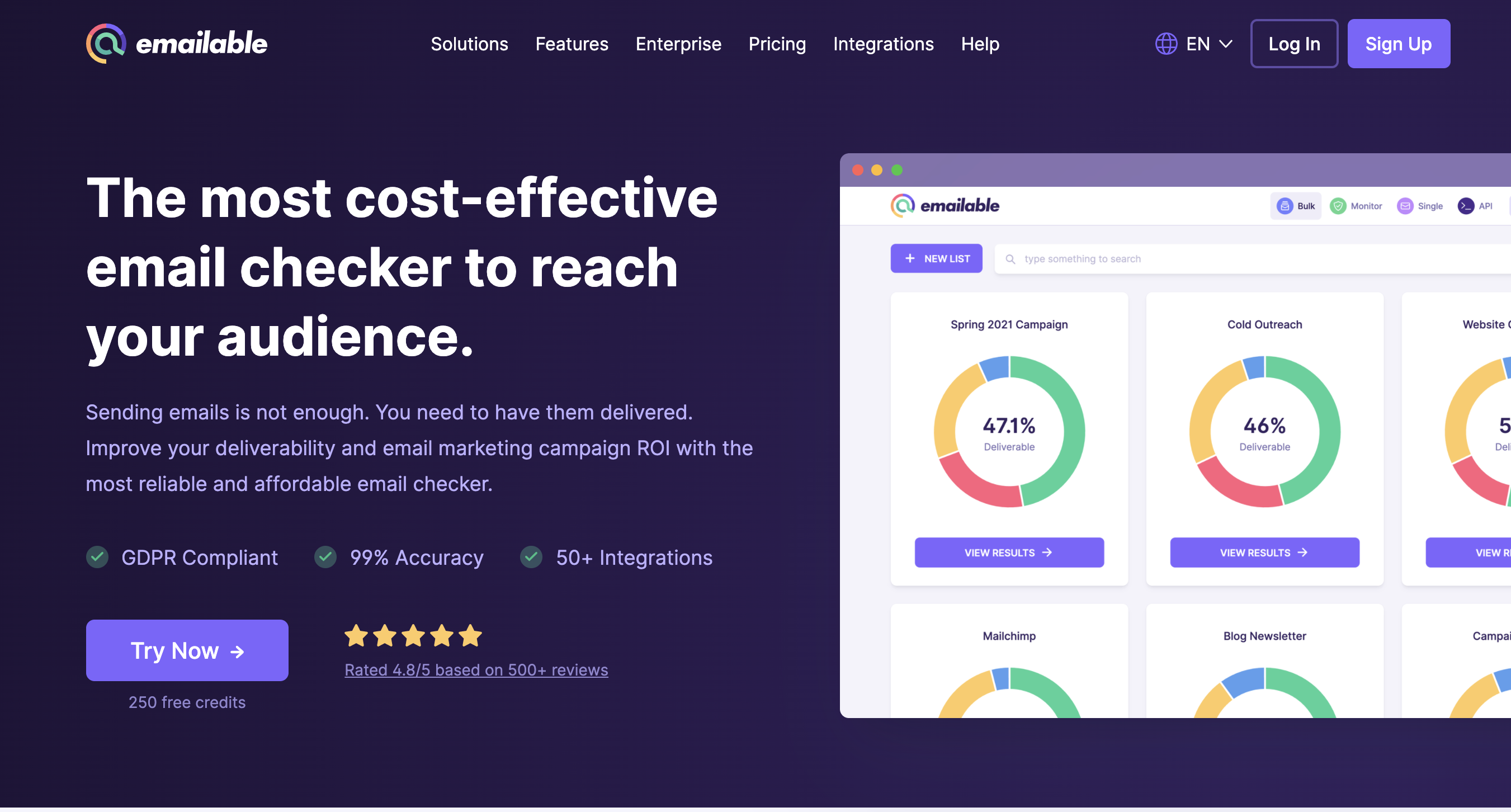 Emailable integrates with 12 email marketing providers: ActiveCampaign, Campaign Monitor, CoverKit, HubSpot, Intercom, Listrak, Mailchimp, MialerLite, Salesflare, Salesforce, Sendinblue, and Shopify.
Emailable charges $99 for 50k emails, and you can cancel your plan any time.
Emailable guarantees a 99%+ delivery rate and is GDPR compliant.
Rated 4.5 on Trustpilot
Emailable Pros:
Daily cleaning,
Plans starting from $9,
Cancel anytime,
99% delivery rate,
GDPR compliant,
Emailable Cons:
No free trial for Monitor,
No free email verifier API,
Only email and chat support are available.
Emailable Prices:
Up to 1,000 emails $9,
Up to 10,000 emails $49,
Up to 20,000 emails $99,
Up to 50,000 emails $99
4. Debounce (discontinued)
UPDATE! DeBounce is no longer accepting new registrations visibility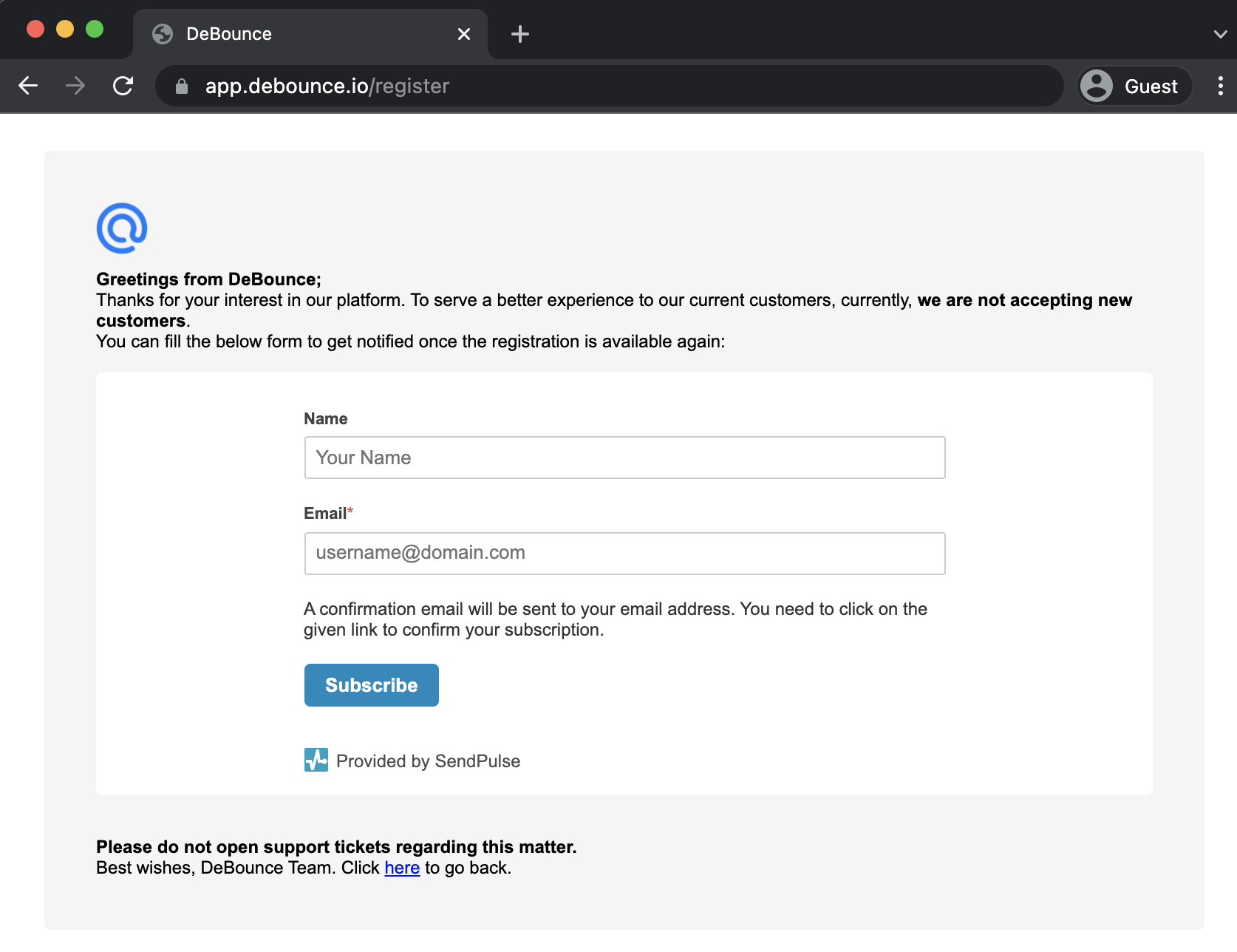 Is Debounce.io Closing Down? – Users in Doubt - Breaking (Updated) (Updated) Users in doubt as DeBounce stops accepting new accounts. Users started to look for an alternative solution. Read more » , might be closing down.
DeBounce's Email List Monitoring validates your email lists every day and syncs them with your email sender to ensure zero bounce rate.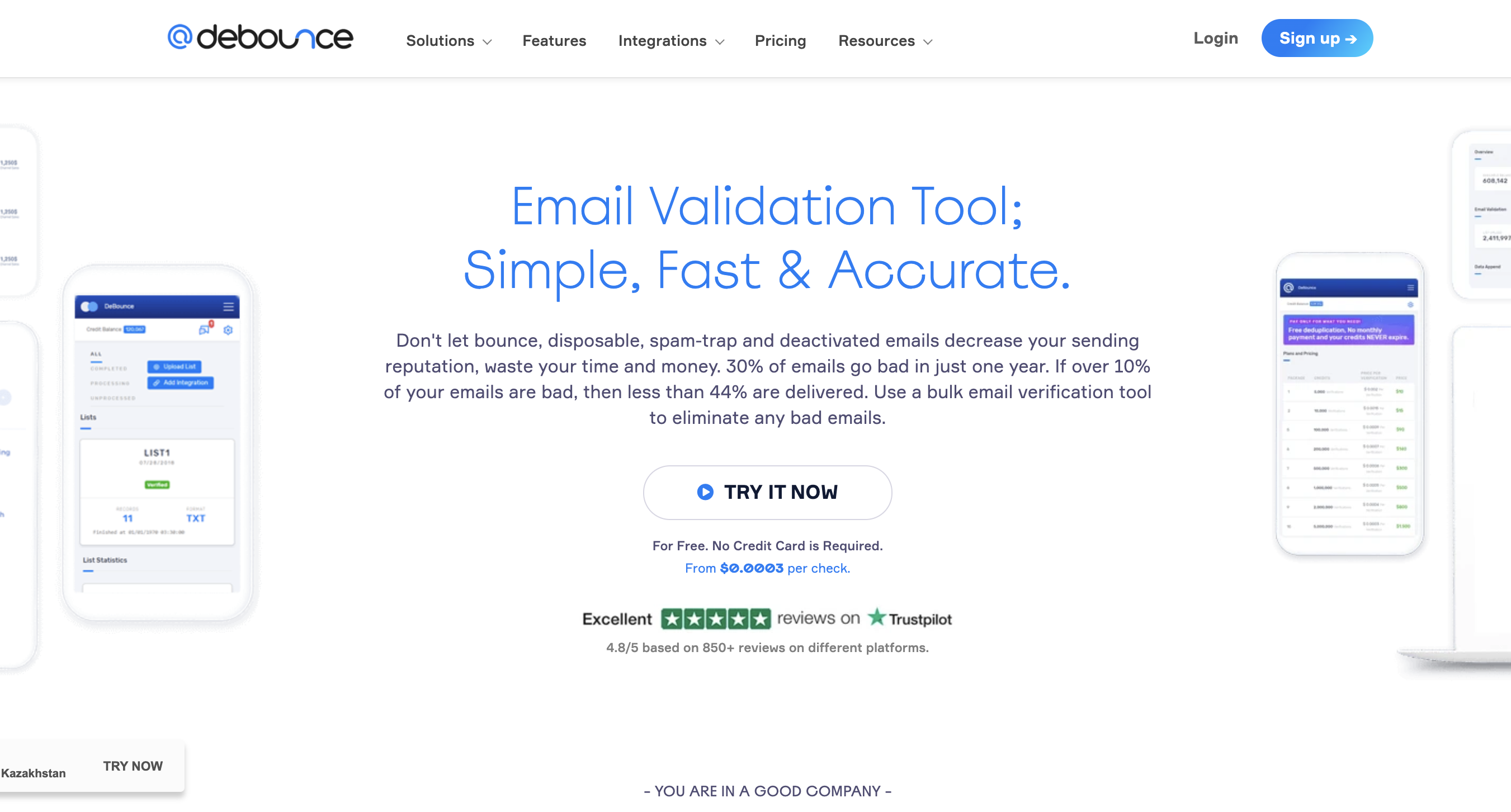 Debounce integrates with 11 email providers: Mailchimp, Sendinblue, Mailgun, Convertkit, Gist, Moosend, ActiveCampaign, Mailerlite, Hubspot, Mailjet, and Drip.
Debounce charges $100 for 50k emails.
They are not disclosing any details about accuracy nor guarantee.
Has 4.8 rating on Trustpilot.
Debounce Pros:
Daily email cleaning,
Prices from $10,
Debounce Cons:
No free trial of automated cleaning,
Only email and chat support are available.
No free email verifier API,
Low transparency
Debounce Prices:
Up to 1,000 emails $10,
Up to 10,000 emails $30,
Up to 20,000 emails $50,
Up to 50,000 emails $100,
5. Mailfloss
With Mailfloss, you can Connect your email service provider, and mailfloss automatically removes invalid email addresses so the emails you send get in front of more ideal customers.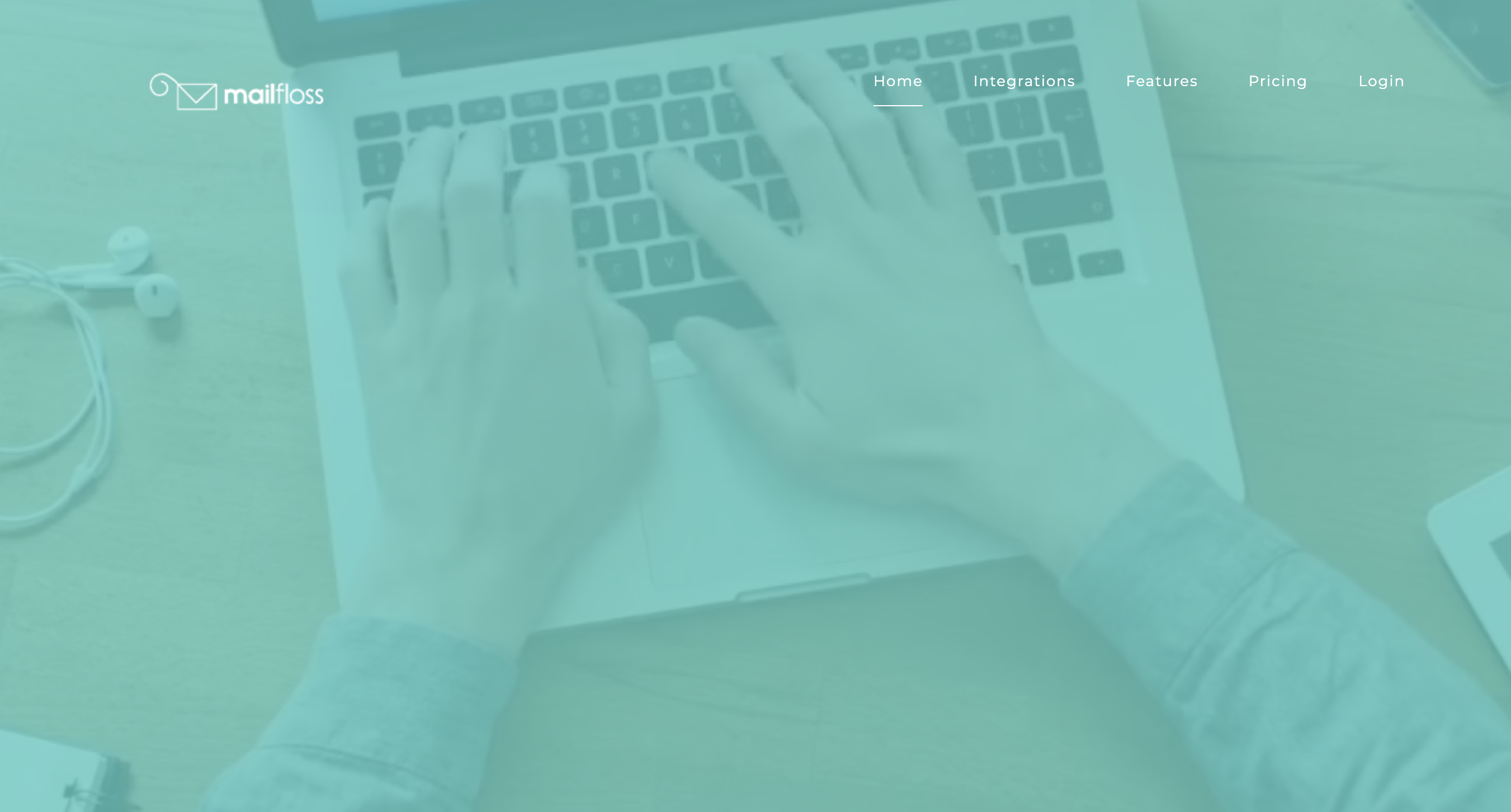 Mailfloss integrates with 32 email service providers, including Mailchimp, HubSpot, Constant Contact, Campaign Monitor, and AWeber.
Mailfloss charges $200 for a 50k email list.
Mailfloss does not disclose any accuracy nor guarantee details and cannot find any Trustpilot reviews for them.
Mailfloss Pros:
Daily verifications,
Seven days free trial,
Plans form $17,
Mailfloss Cons:
Only email and chat support are available
Low transparency
6. Emaillistvalidation
Email List Validation automatically imports lists from CRMs through integration, verifies, and exports back. This process is repeated almost daily so that if any entry on your list no longer remains valid, it gets dropped immediately.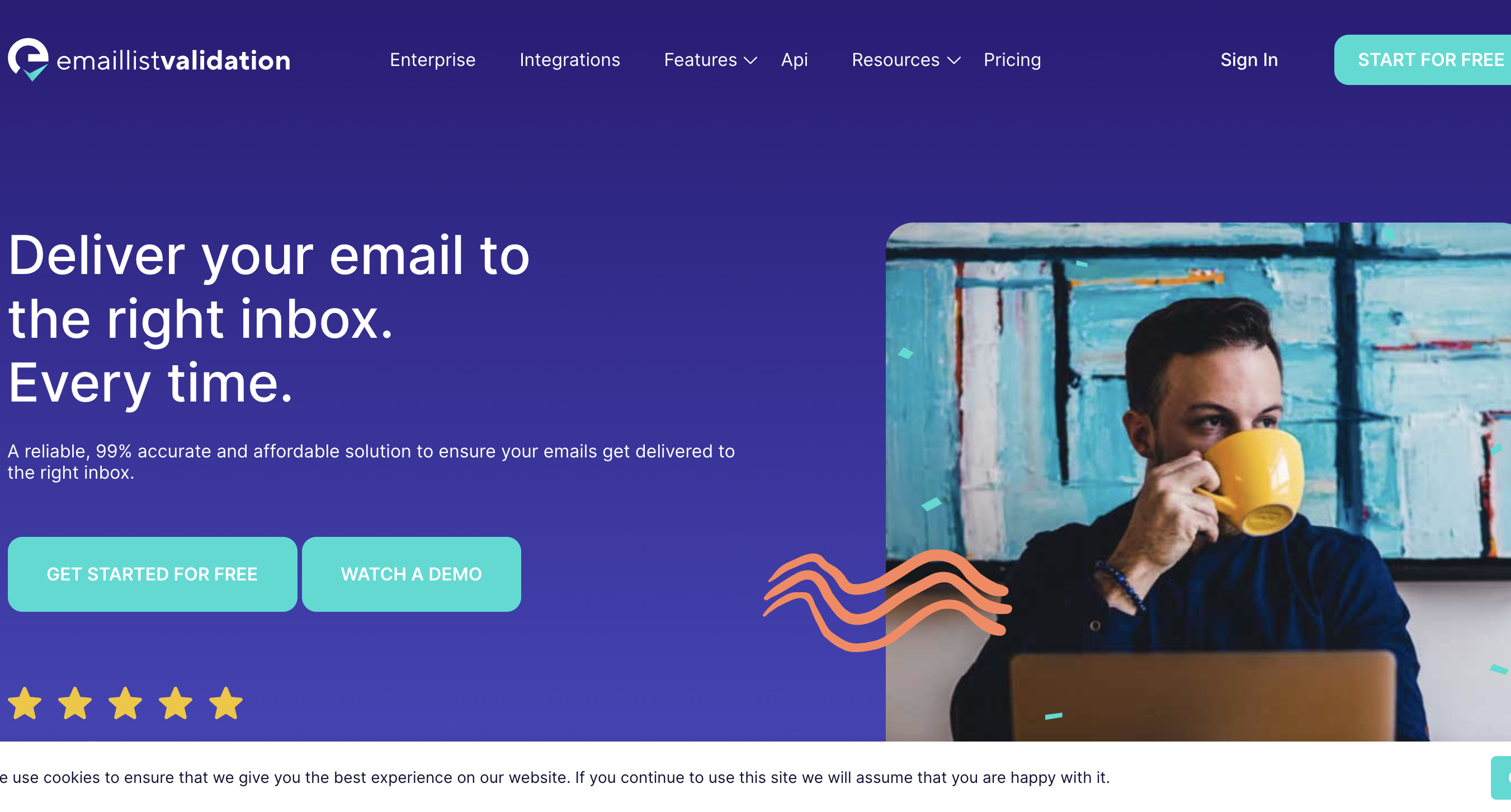 Email List Validation has seven integrations to use: HubSpot, Mailgun, Active Campaign, Madmimi, Sendloop, Campaign Monitor, and Sendgrid.
Email List Validation doesn't disclose any information about the price of the automated cleaning nor about its accuracy.
Email List Validation Pros:
Email List Validation Cons:
No information about prices,
No information about accuracy,
Low transparency,
Only email and chat support are available.
No free trial of automated cleaning,
No free email verifier API.
Email List Validation Prices undisclosed.